2019 was another great year for esports, the industry is still going from strength to strength and I consider myself incredibly fortunate to be involved in the wild ride. I've enjoyed shooting many events this year across a wide variety of games in some incredible locations such as Mexico City, Los Angles, Madrid, Bucharest and San Diego. There's too many to list them all, but here are a few of my personal highlights from the past year:
Winning the UK Esports Photographer of the Year Award
After the success of the UK Esports Awards last year, it was great to see the event return bigger and better this year! I feel like the UK esports scene gets overlooked sometimes in the grand scheme of things, so it's good to see people giving the UK scene some much-deserved recognition. After winning this award last year, I was happy enough to be nominated again, but to win the award too was an added bonus. Back-to-back!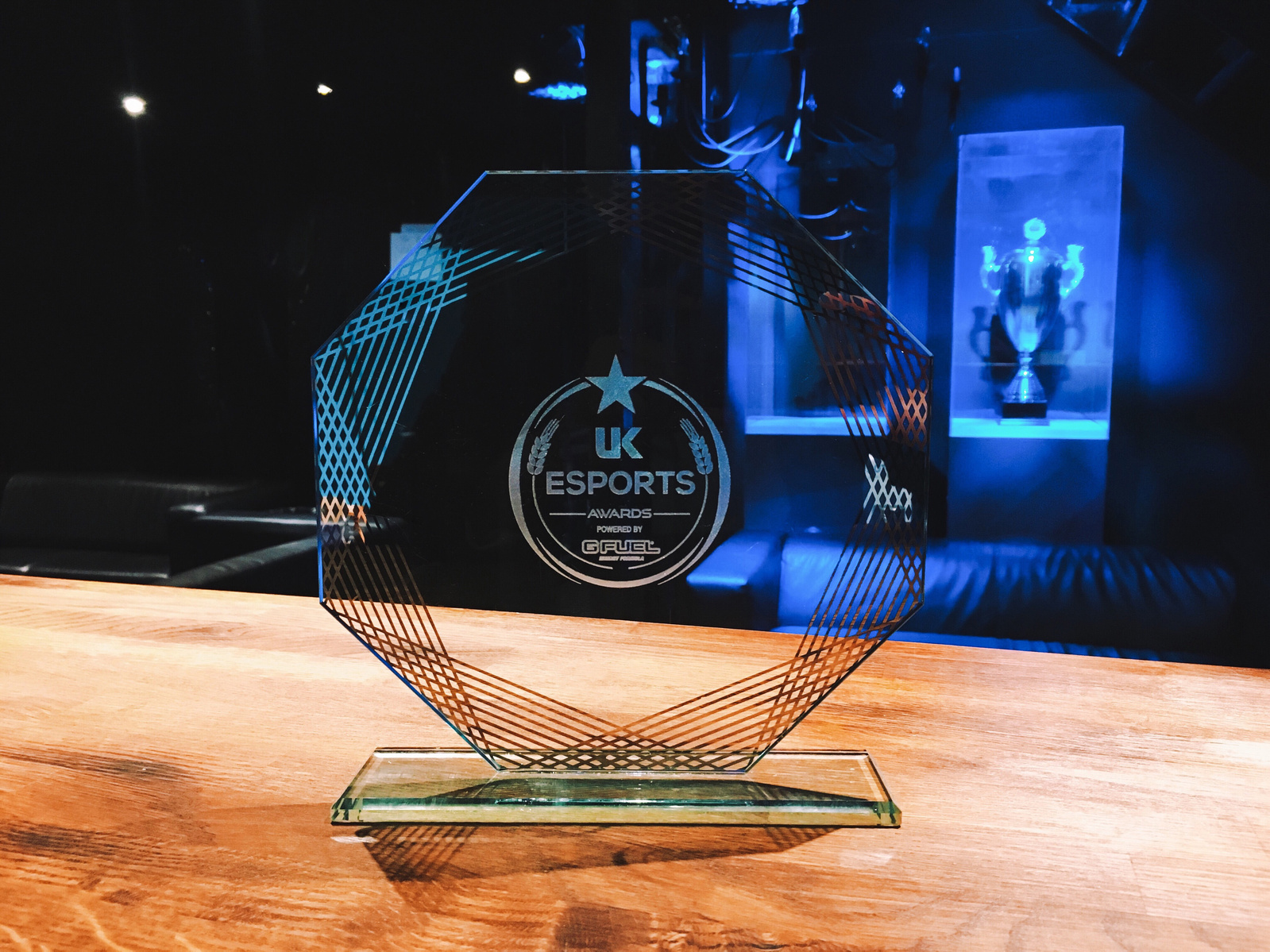 Gears of War Esports
The Gears of War esports scene keeps growing and the release of Gears 5 has certainly spiced things up! I love being involved in these events, the players are real characters and I get to work with the incredibly talented Loose Films guys too, who make some of the best video content in esports. The events this year took us to some great places including Mexico City, Boston and San Diego! I'm looking forward to more of these events in 2020.
FACEIT Global Summit: PUBG Classic
I love working with the FACEIT guys and I also enjoy playing PUBG, so when I heard the news that I'd be shooting the first ever PUBG Major in London, I was incredibly excited! The stage for this event was absolutely ridiculous, and it took a while to run from one side to the other which certainly presented a challenge when there were only a few teams left in the fight! I had to hope luck was on my side for this one.
Call of Duty World League Championship in Los Angeles
I've mentioned this in previous blog posts, but Call of Duty is the game which got me into watching esports years ago, so it holds a very special place in my heart. Champs was one of my highlights of 2018 and is the pinnacle of the Call of Duty esports calendar, so I was very happy to be invited back to shoot it again this year! This time it was in sunny Los Angeles, so I flew out a few days early and took some time off to do some sightseeing before the event which was great fun. The event itself was incredible, the crowd were awesome and the photo opportunities were aplenty! I'm excited to see where CoD esports goes from here, especially with the new franchising structure!
BLAST Pro Series: Madrid
CS:GO is the game I play the most and I really like what BLAST have been doing with their events, so I jumped at the chance to shoot one of their events in Spain. A personal highlight from this event was a coach-load of Giants fans arriving and marching up the street to the venue, setting off smoke flares and waving flags - It really was a sight to behold! The stage is very unique, with 3 games being played simultaneously, giving the audience triple the entertainment value. This event was very visually impressive which made it an absolute pleasure to shoot.
VSFighting 2019
I thoroughly enjoy shooting FGC events because the players always give great reactions, so when I got the call to cover VSFighting in Birmingham, I was very excited! The event hosts tournaments for multiple games, so it's a great place for a wide variety of players and fans to come together and share their love of fighting games. I'm hoping to shoot more FGC events in 2020!
Twitch Prime Crown Cup
This event involved a large group of celebrities coming together to play FIFA and have a laugh to celebrate Twitch. It was great fun to be involved in this, it's nice to break up the serious competition with events like this sometimes and remember that gaming can be about just having fun too!
Call of Duty World League London Open 2019
We've been a bit deprived of good Call of Duty events in London recently, so this event was rather special. All the big teams were involved and the crowd was one of the best crowds I've ever seen at an esports event. There was just something in the air at this event, everyone was feeling it. Strangely enough, the event was held at the Copper Box Arena which was also the venue for G3, the first esports event I shot back in 2014. Funny how life works sometimes.
F1 Esports Series
2019 saw the third season of the F1 Esports Series held at the Gfinity arena in London. These events are getting bigger and better each year, and it's an honour to be shooting for such a prestigious brand. The dedication and passion shown by the teams and drivers is seriously inspiring. I'm looking forward to seeing where F1 Esports goes from here!
FUT Champions Cup - Bucharest
I've never been to Romania before, so I was very excited when I got asked to shoot two FIFA events over there, it's always good to experience a new city! I thoroughly enjoyed myself - FIFA players are always very animated which makes for some good reaction photos. Getting to visit the PGL studios was also pretty cool - did you know that nobody is allowed to wear shoes in there? Everyone walks around in socks, players and talent included!
FACEIT Esports Championship Series Season 7
I've worked on quite a few ECS events with the FACEIT team now, but they never get old! Something about shooting CS:GO at the legendary Wembley Arena always feels special to me, and this was no different. Team Vitality took this event by storm, ZywOo in-particular putting in some incredible performances. I hope to be involved in more ECS events in 2020!
Modern Warefare Launch Party
This event was a nice change of pace from the usual hectic esports events. The event organizers did an incredible job of recreating some iconic scenery from the game, including a fully working Burger Town restaurant which was serving up some great food all night. There was a huge range of celebrity guests at this event including musicians, footballers and streamers, so it was fun to watch them all bonding over love of the same game!
Masters Historic Festival - Snetterton
Sometimes it's important to take a break from the usual routine and shoot something different to keep the creative juices flowing. I grew up next to Brands Hatch race track so motorsport has always been close to my heart, so I thoroughly enjoyed shooting the Masters Historic Festival down at Snetterton. I wouldn't mind shooting more motorsport in future, so I'll keep my fingers crossed for more opportunities like this!
Joining Getty Images
Getty Images are a huge name in photography, so when they invited me down to their offices for a meeting I was very excited. I wasn't exactly sure what they were calling me in for, but as it turns out they wanted to offer me a place on their team as a contributing photographer! I look forward to working with them moving forward!

Happy New Year! I wish everyone the best for 2020!