At the start of 2020, things were looking very bright indeed. By the end of the first week in January I had 23 events booked in and I was very excited for another whirlwind year. I don't need to tell you what happened next and it goes without saying that this year has been a rough ride for us all. I moved into a new apartment right before lockdown kicked in, so I've spent most of the year trapped in a cage trying my best not to lose my mind. It got pretty dark at times but I'm proud that I made it to the end of the year at least. I'd like to take a moment out from the doom and gloom to share some of the few positives and images I was able to take from this year:
Winning the UK Esports Photographer of the Year Award
Despite the year we've had, I'm very grateful for the efforts made by the UK Esports Awards team to put a show together, spread some positivity through the esports industry and give people something to smile about. Although we couldn't celebrate in person, we had a pretty big webcam party in Discord which was one of the highlights of my year!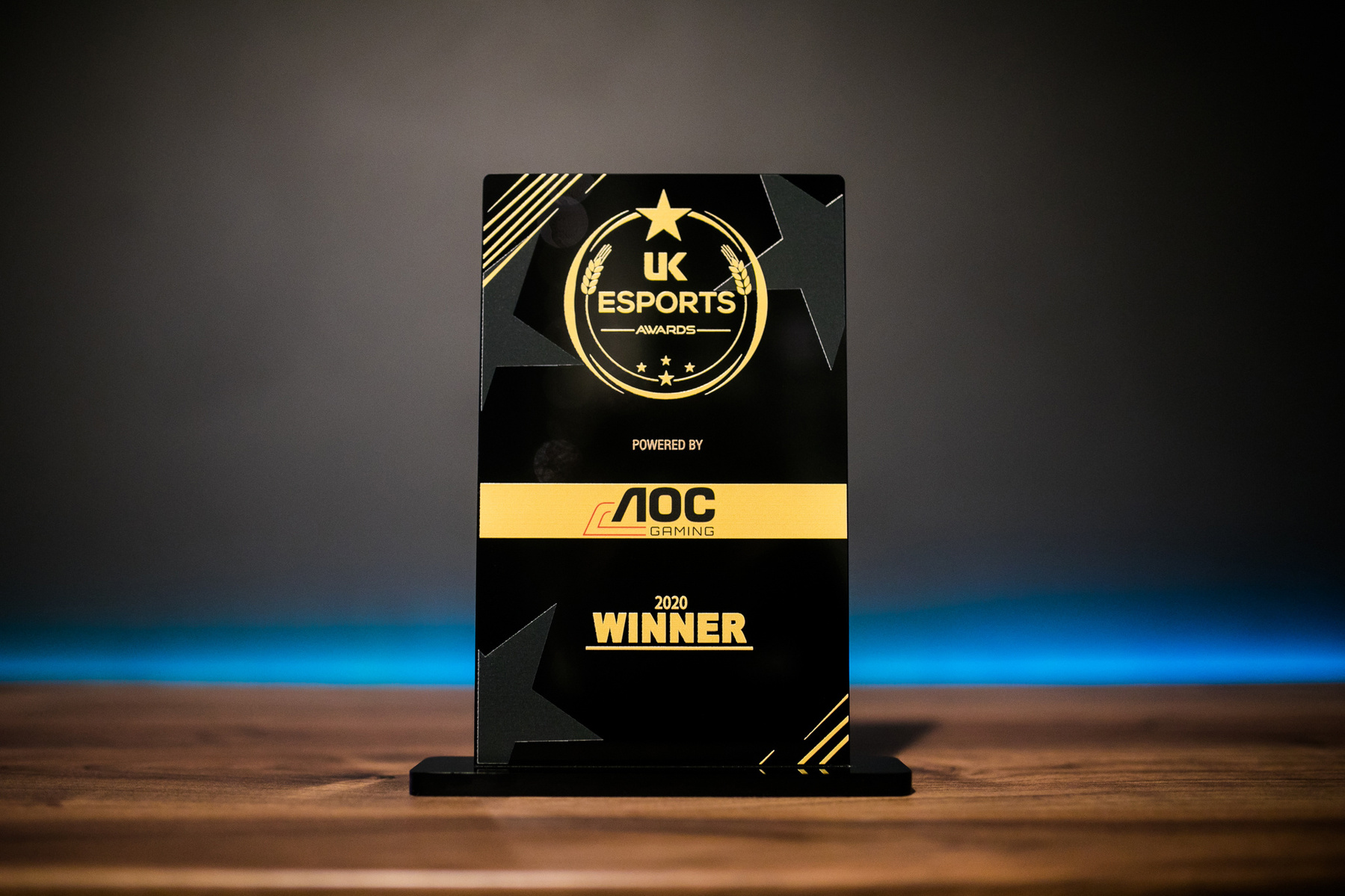 BLAST Premier Spring Series
Working for BLAST is always a pleasure. The team have a real passion for the product they are creating and that is reflected in the quality of the show. The stage looks incredible and is so much fun to shoot - despite this event being 3 weeks long I was still finding new angles to shoot from right until the end! We even had a few in-house LAN matches on the stage after the show had finished some nights which was a very cool bonus, especially for someone who loves CS:GO as much as I do!
Call of Duty League - London Royal Ravens Home Series
There is something very special about Call of Duty events in London. Perhaps it's that we don't get as many big events as our friends across the pond, so the crowd makes up for lost time by taking it to another level. It's probably the closest thing to a rowdy football match crowd I've experienced in esports! I was fortunate enough to be covering this event for Activision Blizzard which allowed me unrivalled access to the stage, which I tried my best to make the most of!
Gears of War - Mexico City Major
Gears of War events are always great fun to shoot for many reasons. These events have taken me to countless places and allow me to work with some of my absolute favourite people from The Coalition & Loose Films. This is the third time Gears has taken me to Mexico City and it never disappoints; the crowds are always on another level! The food isn't too bad either…
F1 Esports Series
I'm not sure where the time has gone, but the F1 Esports Series has now been running for 4 years! I've been fortunate enough to cover it from the very start and it has been great to watch it grow in popularity over the years. In a way, this year actually boosted the popularity for virtual racing as lots of people got involved including professional footballers and various celebrities. Sadly we couldn't have anyone racing from the arena itself, but I was still incredibly grateful to be able to get down to the Gfinity arena to cover the live show side of things. This was a very welcome dose of normality towards the end of this year and I'm very thankful for both Gfinity and Getty Images for the steps they took to allow this to happen. I'm keeping my fingers crossed that we can get some drivers back in the arena in 2021!
Product Photography for Astro Gaming and Logitech G
One of the few positives I'm able to take from lockdown this year is that it allowed me to try something new. Product photography is something I'm able to do from the safety of my apartment, so this kept me amused for a while. It was certainly a learning experience and I now have a greater appreciation for good product photos! I still have a lot to learn about this but I'm pretty happy with what I managed to capture from my first few attempts. I'm looking forward to doing more of this in 2021!
Combat Gaming Promo Shoot

This shoot took place in one of the most incredible locations I've had the pleasure to work in - a penthouse apartment in Chelsea harbour which overlooks the yachts on one side and the River Thames on the other. While not as crazy and hectic as the esports shoots I'm used to, this was one of the few tastes of normality I got towards the end of the year and just being able to work around and with other people gave me a huge boost mentally, so for that I'm very thankful. I met some awesome people on this shoot too, which is always a good bonus!
Personal Projects
Usually I only include professional work in these blog posts, but this year I wanted to add something a bit more personal. The lockdown situation forced me to slow down for the first time in a very long time, which meant I was able to spend more time on personal projects and explore the beautiful Norfolk countryside which I'm lucky enough to have right on my doorstep. Here are some of my favourite photos from those adventures this year:
If you made it this far, thank you for reading! I appreciate it a lot. Here's hoping for a better year next year for us all!

All the best,
Joe