With 2018 drawing to a close, I'd like to share with you all some of my personal highlights from a crazy year. I shot a total of 43 esports events, which somehow is even more than the 38 I shot in 2017! I was fortunate enough to travel to many new places and meet some awesome new people. This has been my most successful year so far on a professional level, I feel like I've learnt a lot and I've definitely enjoyed the journey I've been on! Thanks to everyone who supported me and helped make this such a great year, you know who you are. Without you all I wouldn't be able to do this for a living, I'm very grateful for you all!
So much happened this year that it's impossible to cover it all, but here's a selection of some of my favourite moments:


Winning the UK Esports Photographer of the Year Award
I am big supporter of the UK esports scene so I was very excited when they announced the UK Esports Awards! I think it's important to recognise all the hard work people do to help make this such a great industry to work in and often the UK scene gets overlooked in the grand scheme of things, so this event was a great way to give back, in my opinion. I felt lucky enough to be nominated for an award, but to win was a bonus! Shoutout to all the other UK esports photographers who were nominated too, you're all awesome!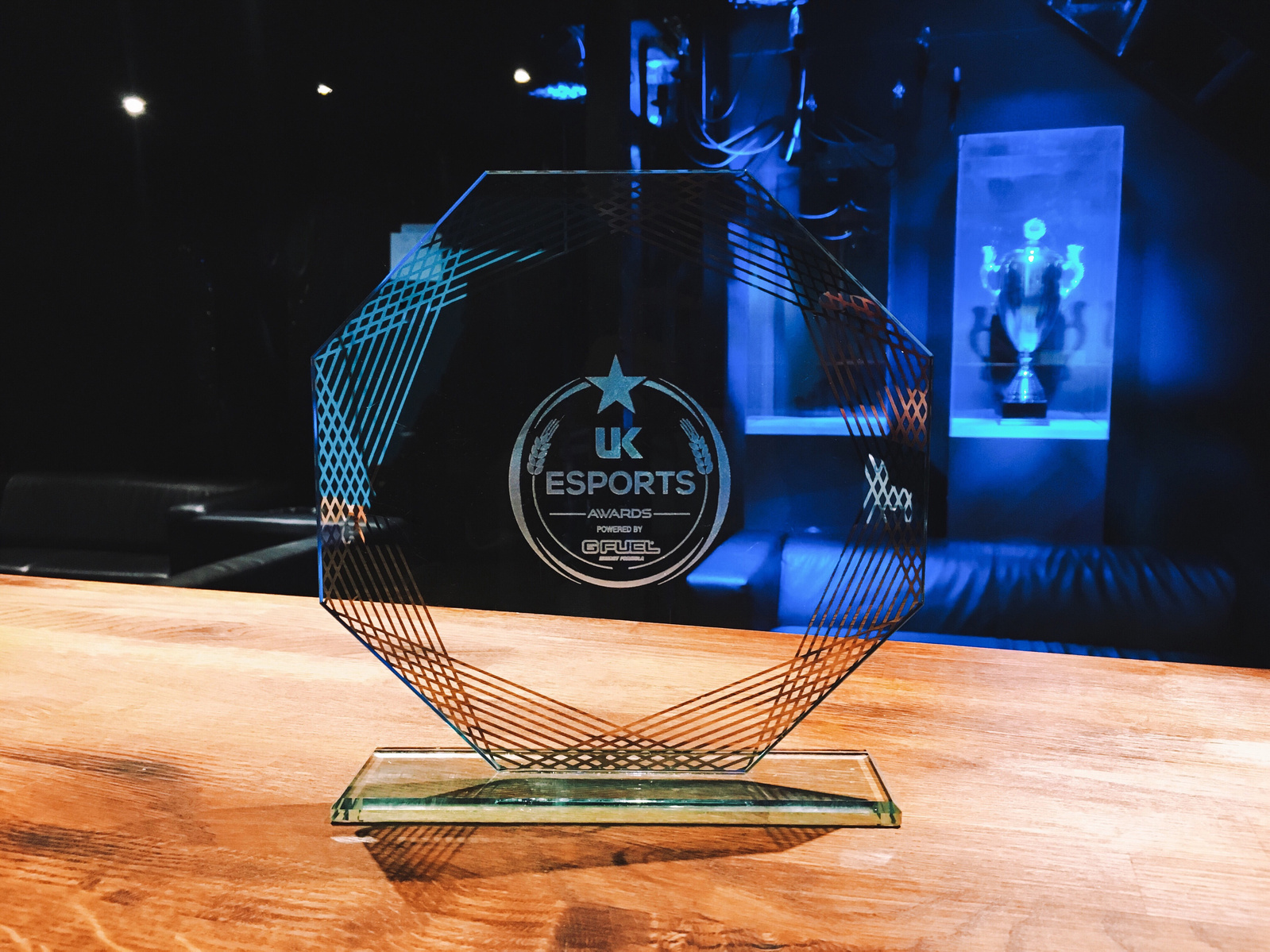 Counter Strike FACEIT Major: London

CS:GO is a big part of my life and shooting a Major was one of my main career goals. So you can imagine my excitement when FACEIT approached me to shoot the London Major for them! This event was honestly incredible to be a part of, and to be shooting such an event in my home country was truly an honour. The event was spread across three weeks, the first two weeks taking place at Twickenham Stadium and the final week taking place at the SSE Arena in Wembley. Astralis absolutely dominated this event, but there were still some great matches along the way! This event will definitely go down as a highlight of my entire career.
Call of Duty Championships
CoD Champs was the event which got me hooked on watching esports back in 2013, so when MLG contacted me to shoot Champs in Columbus this year, it really was a dream come true. The event was held at the Nationwide Arena in Ohio, which serves as the home of the Columbus Blue Jackets hockey team. Sadly OpTic Gaming didn't make it to the arena stage, but this meant quite a few teams were in close contention for the trophy, which made for a very exciting tournament. Evil Geniuses came out victorious in the end, after a crazy Championship Sunday! I feel that this was one of my strongest events this year, I really found my groove and am super happy with the shots I came away with.

DreamHack Sweden
When I was about 13 I remember seeing this photo of DreamHack which blew my mind. Thousands of gamers in one place, all playing together at one huge LAN party. It looked like my idea of heaven and I knew I had to get there one day. Well this year I was lucky enough to get invited to shoot there twice with Astro Gaming, for both the Summer and Winter events! DreamHack did not disappoint and was everything I expected it to be. There was so much going on it was almost overwhelming! The opening ceremonies were personal highlights, the Summer event having a fireworks show outside and the Winter event having an epic laser show inside!

Gears of War Pro Circuit
This has been another successful year for the Gears Pro Circuit with events in some awesome locations including San Diego, Las Vegas, Mexico City, New Orleans and Dallas. Gears players are some of the most heated and emotional in the esports scene and shooting them is always a pleasure. Mexico City was a personal highlight for me, as I've never been there before and the crowd were unreal, their passion for Gears is incredible! As a bonus, we got to spend an extra day after the event exploring the city, we even managed to climb the Teotihuacan pyramids! One other big reason I love shooting Gears events is the crew I see at every event. The Loose Films guys make some of the best content in esports and getting to spend time with them is something I always look forward to!

Gfinity Elite Series
This year saw two more seasons of the Gfinity Elite Series, which has now completed four seasons in total. Each season runs for around 8 weeks, so there's plenty of time to get to know the players. This makes them get comfortable with you pointing the camera at them, which in turn means you can capture some really unique images! Personally my favourite thing about the Elite Series is that it includes three different games (FIFA, Rocket League and Street Fighter) so that helps to keep things interesting when you're constantly switching between shooting different games. Each game requires a different approach to shooting which is a fun challenge! Street Fighter is particularly entertaining to shoot, as the players really give some great reactions when they win a match!

McLaren Technology Centre

Most people might not know this, but I'm actually quite the motorsport fan. I grew up next to Brands Hatch so cars and racing have always been a part of my life. I've always been a big fan of McLaren since I grew up watching F1, so when the opportunity came up to shoot with Lando Norris and the McLaren esports team at the McLaren Technology Centre in Woking, I thought Christmas had come early. This place was like nothing I'd never seen before, words don't really do it justice! It felt like I was in a spaceship, or a real-world version of the Aperture Science Lab from Portal. We finished shooting around 5pm, but I stayed for another 3-4 hours on my own, walking around looking at all the cars and history on display. I feel incredibly fortunate to have been able to see this unbelievable place.

ESL Mountain Dew League & ESL Pro League
As I mentioned earlier, CS:GO is a big part of my life (I play as much as I can when I get some downtime at home, it's an important escape from work for me) so being involved in shooting the ESL Mountain Dew League and ESL Pro League at the ESL UK studios in Leicester was a great experience! Teams were playing for promotion and relegation, so tensions were running high and there were some great reactions to capture! It's good to see top players on UK soil too, hoping for more of this in 2019!

KSI vs Joe Weller & KSI vs Logan Paul
I'm sure I don't need to fill you in with the details of the drama behind these fights, but being able to shoot them both for Scuf Gaming was quite an experience. These events were a change of scenery for me, having never shot boxing before it was an interesting learning curve. Being in the middle of an arena with thousands of people cheering on two men who are punching each other in the face made for quite the atmosphere, you could really feel it inside. I even got some blood splattered on me from being so close to the action!

ECS Season 6 Finals - Esports Stadium Arlington, Texas

There was a lot of hype around the new Esports Stadium being built in Arlington, so when FACEIT announced the ECS Season 6 Finals were going to be held as the first event there, I was looking forward to watching it. However, after the Major in London, FACEIT invited me to shoot the event! Shooting the first event in this dedicated esports arena was quite an honour, and the stage looked great! The FACEIT team are some of my favourite people to work with and it's always great to see how much genuine passion they have to make an event come together. I'm looking forward to seeing what this arena has to offer over the next few years as esports continues to grow.

Los Angeles, California

I'd like to end this post on a personal note. After a Gears of War event in San Diego, the Loose Films guys and I travelled to LA to spend a week off there. This was a bit of downtime for us all, and was one of my favourite moments of the year because it was a rare opportunity to sit back and actually enjoy the place I was in and really appreciate the company I was with. We spent a week exploring, driving around in a Mustang and eating all the good food the West Coast has to offer. I got the chance to catch up with some old friends while I was there too! This trip will stay in my memory for a long time, it was a definitely one of the highlights of my year.

Thanks for reading! I hope 2019 brings you all happiness and success, Happy New Year!